Honoring one of Nepal's finest: Dr. Mahesh Shah.
There was a time where Dr. Mahesh Shah couldn't see a path to become a doctor. In 1971 AD, having finished his Intermediate of Science (I.Sc.) with a focus on Biology, Dr. Shah applied to study MBBS (Bachelors of Medicine, Bachelors of Surgery). In the same year, the Government of Nepal introduced major reforms to the existing education system and announced The National Education System Plan for 1971-76 AD. A major part of these reforms was the grading and examination systems and while these were much needed changes, they didn't benefit everyone. The changes meant that, people like Dr. Shah who had finished their diplomas under the old education system, would be at an academic disadvantage than to those we studied under the new education system. Because of this Dr. Shah nearly didn't make it out as a doctor and we nearly lost one of the finest Leprologist of the country.
Dr. Shah hasn't had a lot of nearly moments in his life. Born in 1955 AD in Dhanusha, Dr. Shah is the youngest of three brothers. By the time, he was in secondary school, both of his brothers had set out to study engineering. Growing up, Dr. Shah recalls that he wasn't particularly interested in medical sciences, but would always look up to doctors. And while his parents always wanted him to be a doctor, it was perhaps another incident that pushed Dr. Shah to become one. As it happened, one of his neighbors studied MBBS in India and every time they would pass through, Dr. Shah would always take a moment to admire the man in a suit with a briefcase in hands. Perhaps it was this admiration, or the man's exuberance and confidence, by the time Dr. Shah had finished his School Leaving Certificate (SLC) exams, he knew he wanted to become a doctor.
In 1969, Dr. Shah left for Kathmandu and joined I.Sc. In Biology. Coming from a Maithali background, he had troubles grasping a syllabus that was completely in English. Days turned into weeks, weeks turned into month, and a complex language was nothing more than a collection of words. In 1971, Dr. Shah finished I.Sc. with flying colors. A change in the education system meant that Dr.Shah fell short of the requirement of an MBBS degree and joined B.Sc (Bachelor of Science). Despite excelling in his studies, Dr. Shah could never quite erase his thirst to become a doctor.
In 1975, three months into his Msc. In Botany (Masters of Science), Dr. Shah, having the realization that this wasn't what he wanted, dropped out of University. Fast forward 6-months and Dr. Shah decided to join a technical course to become a Health Assistant. Even though Dr. Shah's qualification at the time far exceeded the requirements to study Health Assistant, he knew that was what he wanted. In 2 years, Dr. Shah finished his studies and was sent to Kailali District Health Post for temporary posting. Few months into his job, he was made a permanent staff of the then His Majesty's Government of Nepal, and was sent to Banke.
Despite a stable and respectable job, Dr. Shah didn't quite feel at home. Despite an amazing work environment, Dr. Shah handed in his resignation and left for Kathmandu.
"I couldn't stay there. Even though the work environment was really great, I couldn't. I never wanted a job, all I wanted was to study MBBS and I knew I wouldn't get that by staying there."
Dr. Shah then joined Teaching Hospital as an Anesthetic Assistant and started working inside the operation theatre.  In between surgeries, Dr. Shah would often wonder if this was the right path. With MBBS nowhere in his sights, the dream of being a doctor was quickly fading away in the bright lights of the operation theatre.
In 1985 AD, the Russian Culture Exchange announced a scholarship program for MBBS students and Dr. Shah was amongst the few participants selected to take part in the exchange. Finally, at 29 years of age, there was a light at the end of the tunnel. Dr. Shah stepped onto the flight to Russia and never looked back.
It's not that his days to come were void of struggles, in fact, there were many, the entire course was taught in Russian and he didn't have much working knowledge of it, the challenging climate of Taskan, but all the challenges seemed much more conquerable now that he was on his way to become a doctor.
"I struggled with Russian in my first year at Taskan. Even though they (Russian Cultural Exchange Center) had given us a 1 year course in Russian, it was quite different using all of it in a University setting. We (referring to other overseas students) would often go back to our dorms and translate the day's notes using the dictionary. There were many a days where we slept at 2 AM just translating the day's notes."
Similar to his struggles with English, Dr. Shah's struggles with Russian didn't last long. By the time he was in his second semester, he was amongst the best students of the class and his clinical background as a Health Assistant helped him immensely.
"After six years in Russia, Dr. Shah came back to Nepal in 1992 A.D, adding the Dr. title to his name. The next step, was to become one. In his early years, he would often visit the Ministry of Health to see if there were any job opportunities, but all they could offer was probationary jobs and voluntary positions, and even for those, he had to wait forever.
It was during one of these days in waiting that he met Dr. Birendra Kumar Bista. A friend of his eldest brother, Dr. Bista had just left Anandaban Hospital to take care of his then sick mother. Dr. Shah talked about his struggles with Dr. Bista and Dr. Bista recommended him to Anandaban Hospital. The very same day Dr. Shah met with Dr. Ruth Butlin, then Medical Superintendent of Anandaban Hospital.
"The first question Dr. Ruth Butlin ever asked me was how would you feel about working with people affected by Leprosy? When I said, I had no problems with it, she asked me, How would your family members feel?" At the time, in India, doctors working with Leprosy patients were often discriminated.
Since 1992 till Now, Dr. Shah has spent 31 years at Anandaban Hospital. From then to now, Dr. Shah has changed with the changing landscape of Anandaban Hospital. Starting from a team of 5 to leading a team of nearly 100 staffs, he himself has grown with Anandaban Hospital. He has seen thousands of patients, transformed hundreds of livelihoods, and helped not just Anandaban Hospital, but The Leprosy Mission Nepal grow into the organization it is today. But despite the many changes around him and a few changes he brought, Dr. Shah feels like it was yesterday that he walked into Anandaban Hospital.
 "What is happiness? What is satisfaction? There has been no greater happiness in my life then seeing my patients do well in theirs. Some of my patients come visit me from around the world, others I see regularly, some talk to me when they see me on the street, others don't, but none of that matters to me. I am happy to be an observer in my patient's life, just passing through their moments of happiness, present in the moment of need."
*Dr. Mahesh Shah is a renowned leprosy specialist in Nepal. His works extend far beyond clinical care. He has been equally active in research and social rehabilitation of his patients. He was awarded the Senior Research Award from the Government of Nepal in 2016 and Swasthya Khabar Health Award in 2023 for his contribution towards Sustainable Development Goals 3: Good Health and Well-Being.
The Norwegian Agency for Exchange Cooperation (Norec ) is an executive body under the Norwegian Ministry of Foreign Affairs with an aim to help achieve the overarching goals of Norwegian development policy. Norec   exchange initiated in TLMN in 2017, with the first project of 3 rounds completed in 2020. Each round comprised of participants who went on a physical exchange to Nepal, Myanmar and Bangladesh for a year.
The 2022 Cohort of the Norec Exchange wrapped up in August/September of 2023. Under the exchange, The Leprosy Mission Nepal welcomed three participants, Dr. Sohel Marndi, Field Medical Officer and Eva Bithi Kisku, Project Officer, from The Leprosy Mission Bangladesh, and Dr Sr Juliet Khine Paleh Ko from The Leprosy Mission Myanmar. All three participants spent six months at The Leprosy Mission Nepal, their works divided equally amongst their time in the hospital and community projects.
In the final days of the exchange program, we sat with all three to understand more about their time here in Nepal and The Leprosy Mission Nepal.
What made you apply for the Norec Exchange?
Dr. Sohel: I came to know about this exchange program from my Program Leader first. It appeared exciting to my mind at first to exchange abroad to share and acquire knowledge, skill and to markup capacity for the service and care of Leprosy. Then when I knew about our host country and the partner organization to work for, I didn't want to give up this opportunity. So, I applied for the Norec Exchange.
Eva: When I heard about Norec Project and I got to know details about Norec project, I felt really motivated to myself to experience this exchange programme because this type of experience I did not had before. We can use this acquired knowledge for the development of our own organization. I think that it is not only about organization it is also the self-capacity development programme.  
Dr. Sr. Juliet: Actually, I am not working with the TLM Myanmar. I am the religious sister of the Roman Catholic Church and I am the general practitioner. I live at the Holy Trinity convent in Yangon. In Hohkai, there will be hospital for leprosy and disables, planed by the project of TLMM and Japanese Embassy. We need human resources for that upcoming hospital and so TLMM suggests me to apply to the Norec  Exchange in Nepal to get much experience and advanced knowledge for leprosy treatment.
What was your first few days working in The Leprosy Mission Nepal like? How was your day-to-day workings within TLMN, differed to your day-to-day activities from back home?
Dr. Sohel: I arrived at the hospital in February and we visited all the departments from Outpatients to Inpatient and met all heads of departments. We met many ulcer and reaction patients on that day. The weather was cooler than my office in Bangladesh. First few days were really merriment in experiencing the mysterious mountainous milieu of the Anandaban Hospital. There are many differences in day to day working activity. The PCR Laboratory here is enriched with advanced investigations and skilled clinical research lab staff. For the care of leprosy ulcers, they are using vac dressing and LPRF and modern methods of debridement. This thing opens new windows of universal knowledge to better care for leprosy.
Eva: First few days in The Leprosy Mission Nepal I tried to adjust with environment, culture, people, food, work environment, Language etc. Day to day working with TLMN was grateful experience to me. Staffs are very supportive, whenever I need help and wanted to learn about something they helped me. Here I got the opportunity to attend various trainings, Research workshop and Monitoring visit to community, outreach camps and advocacy event so it was different experiences from different fields.
The TLMN Nepal have very good research team and I am very glade to meet with them and also I enjoyed discussed on research topic with them. It was my first experience to stay and working in Hospital compound.
Sr. Dr. Juliet: Anandaban hospital area is at the hilly side and the weather was freezing when I came there first, and also the food is a little strange for me. But all of the hospital staff welcomed warmly and I felt at home. Nepalese people are kind and helpful. I have felt free in the observations for every aspect of the hospital and departments and so I got a lot of knowledge not only for the effective treatment of leprosy patients such as ulcer treatment with LPRF and Vac machine, septic wound debridement, reconstructive surgery, disability management, self-care unit but also general health screening and treatment, etc.
Please share some of your  memories & stories while working within TLMN.
Dr. Sohel: I went hiking to a waterfall named Knjusum waterfall with some international and Nepali friends. I was near Lele, in Lalitpur district. It's nearly 18 Kilometers far from Anandabn Hospital. We climbed through many shorts and tall mountains. I also walk inside of the jungle. It was about 4 hours of walking. After conquering our destination, I also took a bath in the freezing water of the waterfall. It was a supercool experience. We also visited some schools with a health camp team through the school health program of Anandaban Hospital. There I met precious Nepali kids. They were really very beautiful in appearance. I talked with them. Many of them do not speak Nepali they their own language. I liked to communicate with them in a mixed language. They were very charmful and brilliant.
Eva: I have few fond memories during staying and working in TLMIB. At Anandaban I got good friends from various country. We went together for short hiking at Kanjoshom, Vhardev and it was so wonderful and first experience for me to going for hiking. I went Butwal and visited Lumbini. In Butwal I meet with TLMN staffs, visited project work, meeting with SHG group was good experience for me.
The best experience and feeling was talking to the hospital patients we didn't understand each other's language but we shared our feelings with just a smile. I really want to thank god for giving me the opportunity to work for leprosy patients.   
Sr. Dr. Juliet: The fond memories I've never forgot is the visit to Pokhara, boating in Fewa lake with my friends. It is the one of my most pleasant days in my life also observation in the Green Pasture Hospital and interaction with the doctors of Green Pastures Hospital are also feel me great. In Aandaban, doing septic wound debridement with doctors, nurse, staff and polite behavior of the patients and funny chatting with them, are the remembrances in my life. I enjoyed get gathering at the prayer room on last Thursday of every month. At that times, we share our faith experiences, pray, have lunch together. This get gathering is also one of my beautiful moments in my life.
*As of writing this, all Norec participants are back in their home country. We hope that the experiences and connections forged over the last six months will help them and their organizations as we continue to work towards a Leprosy free world.
Bolstering Early Detection of Leprosy through School Health Initiatives
Some of the most tragic stories in the fight against Neglected Tropical Diseases come through children. As of 2023, reports show that NTDs affects more than 1 billion children.
More than 500,000 children are affected by leishmaniasis annually, 400 million cases of dengue fever are reported worldwide, and over a third new cases of Chagas diseases are pediatric cases.
In line with the strategic pillars of the Global Leprosy Strategy (2021-2030), The Leprosy Mission Nepal launched a school health program in 2023 to address one of the major challenges cited within the Global Leprosy Strategy, Delay in Detection . The initiative designed to focus on diagnosing child cases for Leprosy leading to Zero Transmission and raising awareness of Leprosy leading to Zero Discrimination, also focuses on providing pediatric care to school going children (ages 4 to 16.)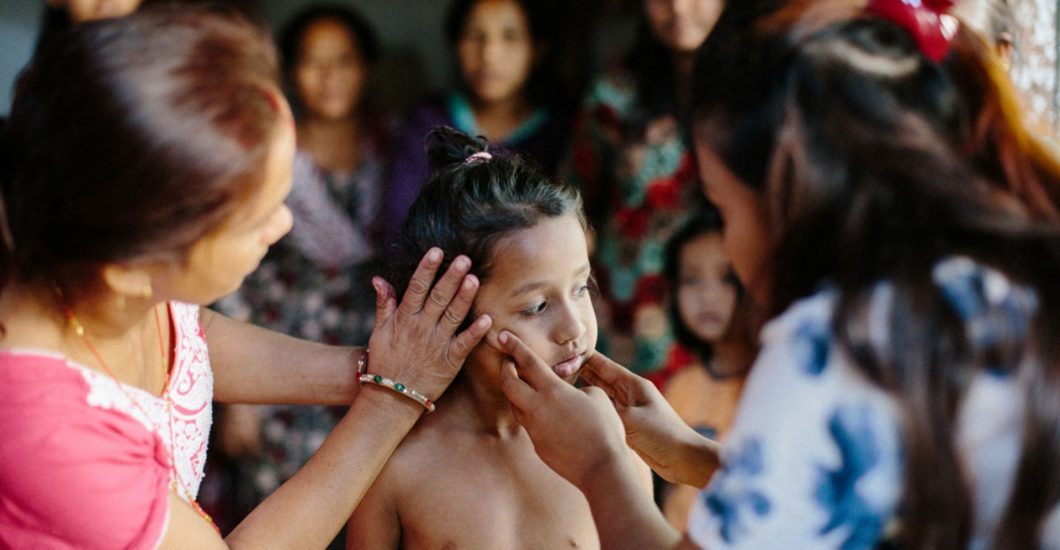 The initiative entitled "School Health Program" focuses on providing pediatric care to school going children, with a focus on catching early child cases of Leprosy and also spreading awareness about Leprosy. The monthly camp started in January of 2023 and as of September 2023, a total of 411 school going children were screened for general health problems, in addition to early signs of leprosy. While there haven't been any new cases of leprosy diagnosed in the past six months, the program has provided primary pediatric care on issues such as malnutrition, dental problems, skin problems, heart problems, respiratory tract infection, ear problems, intellectual impairment, lagopthalmos, acute gastroenteritis etc. The program also focuses on providing mental health care to young adults and create a safe space where they can openly talk about any mental issues they are facing and work with a counselor to brainstorm ways on how best to tackle those issues.
The Leprosy Mission Nepal at NNN 2023
The 2023 Annual NNN Conference was organized from the 19th to the 23rd of September, 2023, in Dar es Salaam, Tanzania. This year, The Leprosy Mission Nepal (TLMN) was heavily involved in the planning and execution of the conference itself, led by our Head of Programs and Learning, Dr. Jemish Acharya, who also took on the mantle of the NNN Vice-Chair. She was supported in her role by Mr. Subin Adhikari, Programs Communication Officer, and the NNN Communications Vice-Chair. A 10-member team travelled to the NNN Conference in Tanzania, to present, network, and be a part of the movement to end NTDs.
Honoring the contributions of late

Dr Mwelecele Ntuli Malecela
Dr. Jemish Acharya and Mr. Subin Adhikari joined the NNN steering committee for a morning visit to the house of late Dr Mwelecele Ntuli Malecela to honor her contribution and to invite Mr. John Malecela, former Prime Minister and first Vice President of the United Republic of Tanzania, and Dr. Mwele Mwacele's father to the NNN Conference.
Inaugural Regional Meeting for Africa
The Leprosy Mission Nepal was also represented in the Inaugural Regional Meeting for Africa for the NNN. Co-hosted by Dr. Jemish Acharya and Mr. Subin Adhikari, the meeting showed new ways to bolster regional collaboration and initiated conversation on how organizations like TLMN can partner with regional organizations to bolster our initiatives
Plenaries, Panelists, and Presentations
TLMN was also represented in the opening and closing plenaries of the NNN through our Head of Programs and Learning, Dr. Jemish Acharya.
Dr. Suwash Baral, Consultant Dermapathologist, joined a 4-member panel discussion on "Demand Generation: The Role of Youths to create a movement to end NTDs" to discuss on how best to incorporate youth voices in NTDs. The discussion talked about how there is not enough interest within the younger generation to join the fight against NTDs. Dr. Baral's discussion was drawn from his personal experience as one of the two one of the two dermatopathologist in Nepal and how he found himself in the field of Leprosy.
Dr. Indra Napit, Principal Investigator- RIGHT Project, presented a rapidfire on Revolutionizing existing practices of care for NTDs. His presentation focused on transforming the treatment and prevention of Leprosy and Buruli Ulcers in LMICs. The presentation was created on the ground work done by the RIGHT Initiative. Learn more about the initiative here.
Mr. Aashish Rai, Communication Officer, Found Project, presented a video on Comprehensive Rehabilitation, approach to rehabilitate persons affected by leprosy and persons with disability sustainably. The video highlighted some of Found's best practices, impacts and achievements while putting a focus on comprehensive rehabilitation and how it could be used across different NTDs.
Meetings, Discourses, and More
While some of our colleagues were on-stage, others focused more on off-stage activities. Over the three day conference, we were engaged in side-meetings, conversations, and discourses with friends and partners to better strengthen the initiatives of the Leprosy Mission Nepal and to also introduce new ideas to achieve our shared vision: Leprosy Defeated, Lives Transformed.